The Project Suntrike was born thanks to the union of: a group of business men
with a great experience in the automobile sector, with excellent designers and technicians
and is the result of the study for a specific nitch in the market.

The objective was to obtain a very easy to drive vehicle , different , economic,
low cc, funny and allowing close contact with nature. This model was created to offer service
for two passengers wishing to share goods moments together, with more safety and capacity
than a scooter.

So we start to work in a product with all this characteristics, focusing in a modern design with remembrances of the retro/sport and then is born a different motorcycle, a different car, a different trike .In fact the Suntrike was born with his own personality.



SUNTRIKE 50-150

|

SCOOTER COUPE

0 50

|

TANGO

50-200

|



>> ORDER ONLINE NOW
Order yours today and get low gas prices!

CLEARANCE MUST GO NOW>>PRICE $3,900> 50cc Converted
COMES W/NEW 150CC ENGINE / 1 YEAR WARRANTY LIKE NEW
2 Left
_____________________________
SAVE $1000.00
ON YOUR 150CC SUNTRIKE
NOW $4,900 / REG. $5,900>
New 2007 Models In Crate
ONLY 7 LEFT
____________________________
**Converted Suntrike Ready to Ride
For immediate Delivery $3900**
$2,900> 50cc AS IS



___________________________________________________________________________

>> ORDER ONLINE NOW
FULLY SERVICED & DELIVERED
<<866-504-6577 CALL FOR QUOTE>>

$5,499 MSRP - 50CC <ALWAYS CALL FOR SPECIALS>>
Order yours today and get low gas prices!
_________________
$5,999 MSRP - 150CC <ALWAYS CALL FOR SPECIALS>>
Order yours today and get low gas prices!
______________________________________________________________________________________

The Suntrike is a unique machine designed to offer those interested in a lightweight, maneuverable and fuel-efficient vehicle as an alternative to the 2 wheel standard scooters and motorcycles typically associated with these characteristics.

The Suntrike is street legal in all states. The 50cc engine can push the Suntrike with two adults up to 35+ MPH with adequate acceleration. The Suntrike is not intended to drive on highways, it is best described as an in town commuter. The 50cc model does not require a motorcycle license to operate.

Specsifications:

Engine Type: 2-stroke / Engine Make: Taiwanese
Cooling: Air / Displacement: 49.2cc
Bore: 40mm / Stroke: 39.2mm / Ignition System: CDI
Power: 4.4 HP / Cooling: Forced Air / Gas Tank: 2 Gallons
Fuel System: Carburetor / Starting System: Electric & Kick
Lubrication: Auto Mix / Transmission: Automatic CVT
Front Brake: Disc Hydraulic / Rear Brake: Drum
Front Suspension: Independent Hydraulic with Preload Adjustment
Rear Suspension: Hydraulic Shock Absorber
Front Wheels: Alloy, 13 inch / Rear Wheels: Steel, 12 inch
Front Tires: 130/60 x 13 / Rear Tires: 120/70 x 12
Frame: Steel, Tubular E-coat Protected
Body: Fiberglass, Painted with High Gloss
Instruments: Speedometer, Fuel Indicator, Oil Level Alarm
Trike Weight: 350 LBS / Crated Weight: 500 LBS
Max Rider Weight: 400 LBS / Seating Capacity: 2 Adults
Electrical System: 12V (lighter/cell phone charger socket)
Standard Equipment:
Safety belts, 2 can holders, 2 under seat storage, anti roll protection bars, 2 rear view mirrors.
Dimensions:
(Length: 103 inches / 2616 mm) (Width: 55 inches / 1397 mm) (Height: 44 inches / 1117 mm)

Warranty: 1 Year Parts Replacement

Shipping Info:
This item normally ships 1 to 2 days from purchase.
Transit time is 2 to 7 business days.
This item is shipped via semi to your house with lift gate service.
iTANK ELECTRIC SCOOTER




SERVICE MANUALS



A Quality Retro Scooter ...
Without The Expensive Price Tag.


NOVELTY & DOT HELMETS



Trackimo allows you to track anything, anyone, anytime anywhere in the world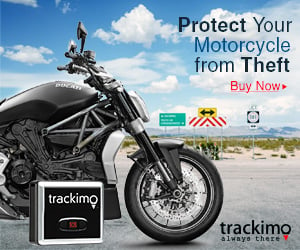 ____________________

WE HIGHLY RECOMMEND
PINELLAS COUNTY FL.
MOTORCYCLE RIDER EDUCATION OF CLEARWATER
Florida Rider
Training Program